Ah, summer. It means freedom, warm days, and, if you're me, a return to blogging after the craziness of finals (sorry about that!). For those of us with jobs and internships lined up, summer is also a time to add a few lines to our ever-important and ever-stressful resumes. But what happens if you don't have any work-related summer plans? Or if you want to add just a little more? With all that extra time, summer's also the perfect time for boosting, bolstering, and polishing up your resume.
10 Summer Resume Boosters (Other Than a Job or Internship)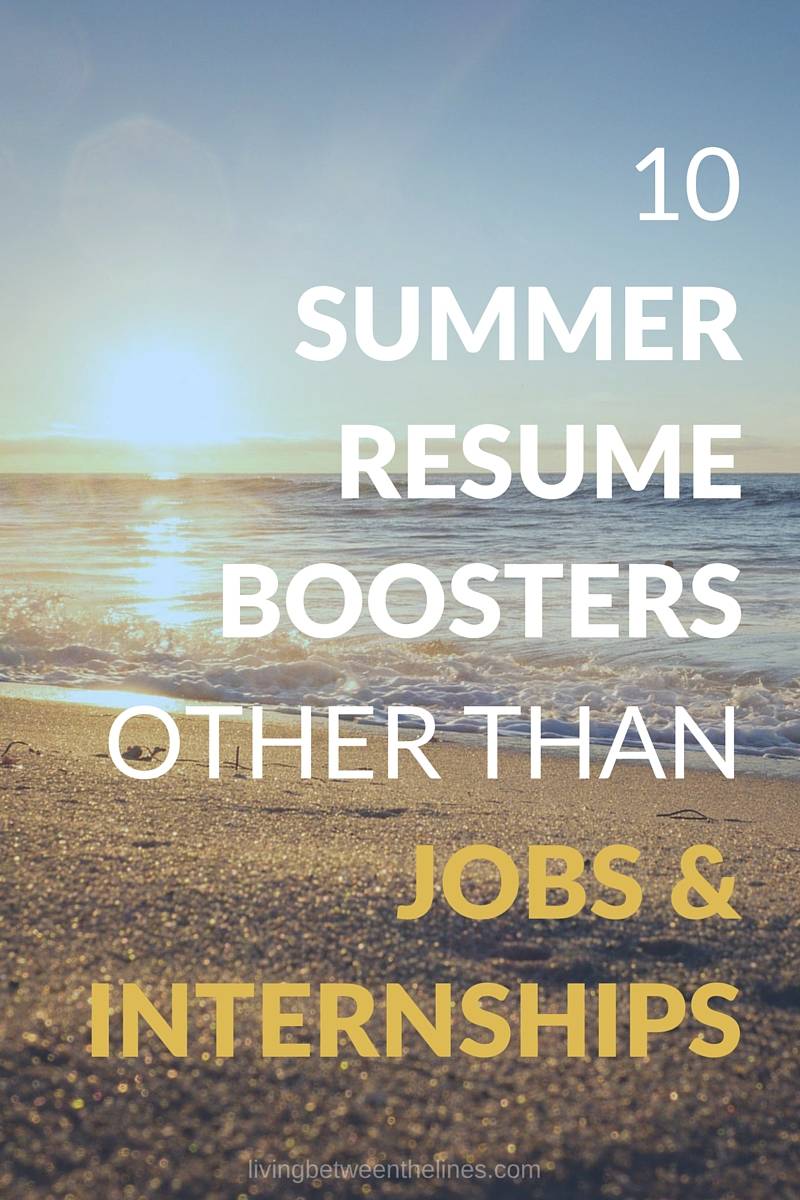 VOLUNTEERING
Say what you want, but I'm counting volunteering as two ways to boost your resume, because there are two functions it can serve for you. It all depends on where you put in the hours.
Volunteer Work in Your Field
Having experience in your field is one of the best ways to get hired. Even if you don't have a job in your future career for the summer, you can still pick up relevant experience through volunteer work. Look through your local newspaper, industry newsletters, or just send a few cold emails – there aren't a lot of places that will turn down some free help! And hey, if you aren't entirely sure what you want to do yet, this is a great way to learn a little more about one of your interests.
Volunteer Work in Something You're Passionate About, But Don't Get To Do At School
This might not seem like much of a resume builder at first, so bear with me. Let's say there's something you're passionate about, but you don't get to do it much at school. First of all, it doesn't have to be that way, but secondly – don't quit your passions! Summer is a great time to catch up, and having diverse experience makes you seem well-rounded on your resume.
Now, you're not going to want to devote a huge amount of space on your resume to something unrelated to the job you apply to, but a quick line of where you volunteered, how many hours, and a description of the skills you learned that will help with the job you're applying to can really help you out!
ONLINE LEARNING
I just did a huge project on this subject, guys (actually, there's a real-live free course I made on Internet courses for a project, if you're super interested!). But seriously, your opportunities to learn in the Information Age are pretty much limitless. If you're a student, it's easy to think that summer is your time off from learning, but it's actually a great time to devote to the stuff your classes aren't teaching you.
Whether you're taking a MOOC (that's massive, open, online course) through a site like Coursera or picking up a new skill on CodeAcademy, spend some time building skills online this summer.
GROW YOUR NETWORK
Did you shudder when you read the word "network?" Because I definitely did when I typed it. Networking, for the self-conscious among us, is pretty much a nightmare. But it's also super-necessary. Almost every job or internship I've ever had, I've heard about through my personal or professional network.
So if you take any of the advice in this post that involves going out and meeting new people – like volunteering or job shadowing – make an effort to stay in contact with at least one new person you meet there. Once you graduate, your network is going to become a great way to hear about new opportunities!
PICK UP A NEW HABIT
Resumes aren't all about skills and work experience, you know. You're always asked to describe yourself at least a little, and if you can say something like "highly organized," "detail oriented," or "punctual," you're going to look even better to potential employers.
I'm not saying you have to go buy out the "self help" shelf at Barnes and Noble, but a little soul-searching and hard work really can help you improve. This summer, focus on developing a new personal habit that you can use to promote your professional growth.
JOB SHADOW
I know I said "no jobs" in this post, but I don't think job shadowing counts. If you know what you want to do with your life, reach out to someone who's already there and ask for a peek behind the scenes. Not sure where your life is going? This is a great opportunity to explore your options.
I know reaching out to a professional you admire and asking for a favor can be scary, but the experience is so valuable! The key is to ensure that you, the shadower, aren't putting any additional burden on your shadowee. This might take some planning, but it'll be worth it.
STAY IN CONTACT
When you apply for jobs, you'll almost invariably be asked for references. This summer, take some time, sit down, and make a list of people in your life you'd like to be able to use as references when the time comes. Then, if it's been more than a few months since you last talked to them, reach out.
You don't want to lose contact with these important mentors, and you certainly don't want them to feel like you only speak to them when you need something. (If your references are professors, I've got a whole post just about staying in contact with them – and the advice might apply to other potential references as well!)
START A PORTFOLIO
If you want to do anything creative, having a strong portfolio is a must. Whether you're writing, drawing, painting, taking photos, or designing websites, you'll want to have somewhere to showcase all your best work. Putting your portfolio online makes it super-easy for potential employers to access.
For writers, platforms like WordPress (which powers LBTL) are a great choice. Visual artists and photogs might favor something like Flickr. Both are free options that let you show off the best of your stuff, and as a creative, that's a great way to prove you're right for the job.
START A BUSINESS OF YOUR OWN
"Megan, that's actual crazytalk." You say to me. "I do not have time to start a business." Lies and slander, my friend. I started a business, and I'm running it right now. (Hint: You're reading it.) Does your business have to be a blog? Nope. (Although if it is, Morgan can get you started). Think about your skills and how you can apply them right now.
If you bake, cook, or garden, think about selling your food at a farmers' market. Feeling crafty? Make some extra cash off your hobbies by selling on Etsy. If you're photography or design minded, you can monetize your art through products on sites like CafePress, Society6, or RedBubble. Why? If you can tell a future employer "I've already made money off my skills," they'll know your skills are valuable.
ACTUALLY, Y'KNOW, EDIT YOUR RESUME
This is the hardest one for me, for sure. I hate actually writing or editing my resume. But keeping an up-to-date copy on hand is pretty much essential. If an opportunity springs up unexpectedly, you want to be prepared. That said, though, if there's any resume advice I've heard too much, it's not to submit a generic version to every employer. You'll have to tailor your resume to each opportunity.
I keep a version of my resume titled "clean copy" that I'll open, edit to showcase my skills and experience most relevant to the job or opportunity I'm applying for, and save it under a new name indicating where I used it to apply. This keeps me organized, and ensures that I'm always showing the most compelling facets of my experience to particular employers. If you're like me and wear many hats, this is non-negotiable.
Now I've Got a Challenge For You!
That's right. Look, I've given you a lot of information, but as I publish this, summer is just beginning. You've probably got time to do a little bit of everything on this list, but there's no need to overwhelm yourself. So here's the challenge: Pick two ideas, write them down, and commit to doing them. It's so easy to read a ton of ideas online, and then just move on, but nothing's going to change until you take action. If you like a visual reminder like me, put your written challenge up on a wall somewhere. If you're looking for a little accountability, feel free to share in the comments!