I'll be honest, guys, when I made my first bullet journal, I had no idea what notebook to choose. I hadn't heard much about the idea, learned most of what I knew from Ryder Carroll's official site, and then drove to Walmart to find my BuJo. Some of you might not be in the same situation. If you've been looking at bullet journals on Pinterest, Instagram, or Tumblr, you might have pretty high standards for your notebook… And a lot of questions about what the "pros" are using. That's where I come in – I'll break down some popular choices and help you find the perfect bullet journal notebook!
Find the Perfect Bullet Journal Notebook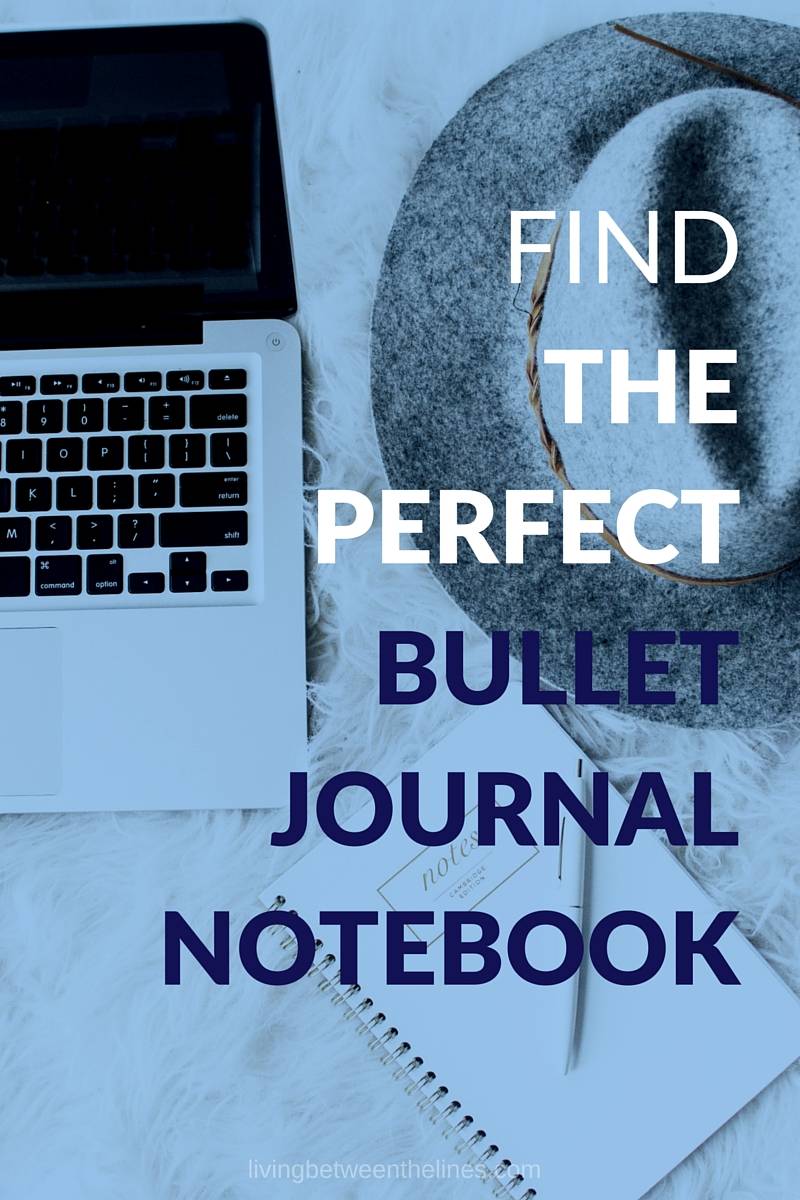 Side note – some of the following links are affiliate links. They don't let me see what you purchase or change what you pay, learn more about them here.
Function > Form
I promise I'll list out some of the big-name brands for bullet journals to help you find your perfect notebook, but bear with me for a second.
Before you settle on a brand because you love the colors, or your favorite Instagrammer uses it, or whatever, do me a favor and spend a few minutes thinking about what you want from your bullet journal notebook. Consider things like:
Size
Paper weight
Paper pattern
Binding
If you carry a big purse, you can accommodate a larger bullet journal. If you want to use really wet-ink calligraphy markers, you'll want nice, thick paper to avoid bleed. A lot of bujo junkies swear by dot grid paper, but regular grid and unlined are popular choices, too. Most of the notebooks I list are journal-bound, but if a spiral-bound notebook fits your needs better, go for it!
Basically, the #1 thing to keep in mind when choosing a bullet journal notebook is functionality. If a notebook is gorgeous but doesn't work for your life, you won't use it and it won't help you.
Alright, PSA over. On to the good stuff.
The Notebooks
Like I said, I bought my first bullet journal notebook on a whim at Walmart. It cost less than three bucks – a little green notebook, probably 3.5″ x 5″, with lined pages and elastic to hold it shut. I grabbed a random pen from my house's junk drawer, and got to work.
You can see all sorts of photos of it in my first bullet journal post. It was perfect… Until it wasn't. About a month in, the elastic band snapped, and I realized the tiny, portable size was really cramping my handwriting. So I upgraded to a popular choice:
The Moleskine
Maybe it's just me, but growing up running around Borders bookstores, I always wanted a Moleskine notebook. There was a whole wall of them outside the café, but I could never bring myself to spend my whole $20 of Borders birthday money on just one notebook. Childhood was rough, man.
That said, there's a reason I lusted over Moleskines. Their variety of sizes, paper patterns, and covers is hard to beat. With unlined, ruled, and gridded options, tons of sizes, soft- and hard-covered versions, elastic closures, inner pocket, and built-in bookmarks, Moleskines are a super-functional bullet journal notebook. As one of the premier stationary brands (in America, at least), they often cut deals with entertainment franchises, as well, meaning you can pick up a BB-8 bullet journal, if your heart desires.
Pros:
Paper quality
Range of sizes
Easy to find/buy
Cons:
No dot-grid paper option (for hardcover)
No place for pens
Off-white paper (a personal pet peeve)
Like the Moleskine, but not the price tag? Picadilly notebooks seem really similar to me. I picked one up intending to do a giveaway and ended up keeping it for myself. I can vouch for the good paper quality, and I actually prefer their cover color options to Moleskine's – and I think they lie flatter when opened. Of course, the notebook isn't quite as high of quality, and the cover is susceptible to bending, but for the price, they're hard to beat.
Bullet Journal – the Brand
I really hope Ryder Carroll, who invented the bullet journal system, is making an absolute killing off his idea. If you want to contribute to all that – or buy a notebook made specifically to bullet journal in – then the "official" notebook of bullet journaling could be the right choice for you.
The Bullet Journal notebook is very specifically designed. Its dot-grid paper supports the bullet journal method well, and it has dedicated spaces for the things we as journalers need, like index pages and bullet keys. It's honestly a beautiful notebook, with "Bullet Journal" embossed on the cover (in case you forget) and attractive proportions.
But surprisingly, I don't know of a lot of people actually using this notebook. It's been hard to find accounts of people's actual experiences, and I can kind of see why. If the design of the Bullet Journal brand notebook fits your needs, I'll bet it's perfect. But it comes in one size, one color, one paper type.
Pros:
Specifically made for bullet journaling
High quality dot grid paper
Dedicated Index space
Cons:
No color options
No size options
Leuchtturm1917
Hello, gorgeous! The Leuchtturm1917 has a doozy of a name, but these are seriously pretty bullet journal notebooks that a lot (and I mean a lot) of bullet journalers seem to swear by.
These babies come locked and loaded. We're talking prenumbered pages, index spaces at the beginning, high quality paper, lots of sizes, and plenty of colors. Think bright orange, rich berry, and pale green. And of course everything is secured with a handy elastic band, and the notebooks appear to lie flat when in use.
I say "appear" because, despite haunting every office supply and stationery store I come across, I've never seen a Leuchtturm1917 in the wild. Maybe it's because I live in the Midwest and only cool people on the coasts get good notebooks. I went off in search of the official website, and let me tell you – their SEO is pretty bad. Once I found it, I realized I could only buy direct in British pounds. Post-Brexit, this might be a decent deal, but I'm not feeling the currency exchange. Luckily, Amazon has plenty – but different colors vary in price, meaning you might spend as little as $20 or as much as $40 – yikes.
Pros:
Variety of sizes and colors
Dot-grid, high quality paper
Numbered pages and index space
Cons:
Hard to buy in-store (if you're me)
No single online marketplace for Americans
Can get pricey
Muji
If you're seeing super-minimalist stationary photos, Muji is a safe brand bet. I've noticed that this Japanese brand is especially popular on Tumblr – go figure. But with clean, elegant designs and strong functionality, Muji's huge variety of journals remains a popular choice.
There's no single, iconic Muji notebook. They come in a variety of sizes and colors, and often sport kraft paper binding, perfect for doodlers looking to customize their covers. American buyers hoping to understand sizing should brush up on their lingo – knowing the difference between and A5 and A6 notebook is essential when buying Muji.
Oh, and about the "buying" part – Muji supplies are incredibly cost-conscious… As long as you're near a Muji store. There are like three in the US. Ordering online, prices are still absolutely reasonable, but keep an eye on shipping costs when buying from offshores retailers. They tend to have fewer pages than more expensive brands, as well. Luckily, the notebooks tend to come in packs of three or five.
Pros:
Variety of sizes
Price
Simplicity
Cons:
Availability
Color options
Size – low page counts
Baron Fig
This may not be a brand you've heard of, but honestly? Your loss. Baron Fig makes a couple products, but for a bullet journal notebook, the Confidant is your best bet.
Baron Fig basically sat down and said "What do you want from a notebook?" and went from there. My Baron Fig is, hands down, the flattest notebook I've ever used. When you open it, it's one smooth plane, all the way across, with high quality paper and dot grid pattern – although blank and ruled paper is also available. I also like that my Baron Fig is shorter, but slightly wider than most notebooks, giving me more space to write where I need it.
Baron Fig notebooks are pretty no-frills. They have two shades of grey covers, a single ribbon bookmark, and, disappointingly, no elastic band to hold the notebook closed. Still, the minimalist approach pays off, since you can buy and ship the Confidant for $16 in the US. Not bad at all, considering the quality.
Pros:
Super flat
High quality, well-patterned paper
Wider dimensions
Cons:
Few color options
No size options
No elastic band
Still not satisfied?
Other brands I've heard of, but don't have much personal experience with, include Rhodia, which I've seen some discussion of in my bullet journal Facebook groups, and Midori, which is an excellent traveler's notebook you could bullet journal in. And if you have bullet journal notebook recommendations, I'm all ears! Seriously, one of the best things about bullet journaling is the amazing, supportive community of fellow journalers, so if you've used one of these notebooks and can vouch for it, let me know! I'm always looking for my next one.