If I've learned anything about blogging, it's to give the people what they want – and you guys seem to really love that bullet journal post I put up over the summer. Which is crazy, because my BuJo game was weak back then. But since it's so much better now, I'll show you something a little more in depth.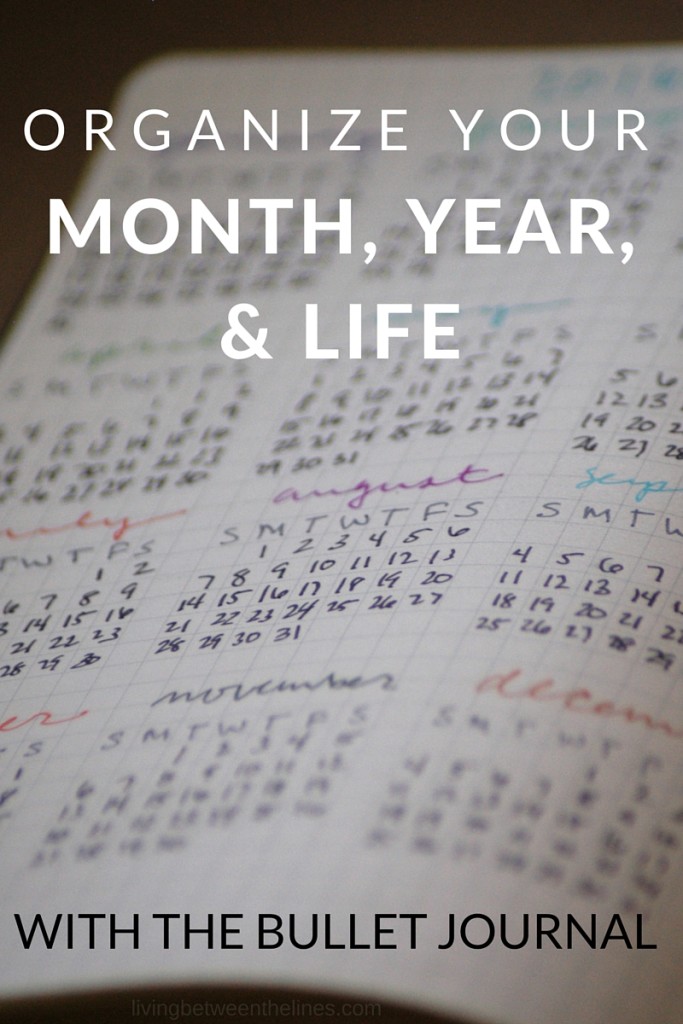 New Year, New You… Or Something Like That.
The nice thing about bullet journals is they don't have to start at any specific point in time, but I feel like we're all a little more inspired at the beginning of the year, so let's take advantage of some of that new year's mojo. And if you're reading this after new year's… Let go of the perfectionism, and let's get started. There's no better time to take control of your life. No, seriously. Do this today. Future you will thank past you for it.
Bullet Journal Yearly Spread
Unless you're a lot more organized than me (which is possible) you probably don't need to plan your entire year in advance. But it is super nice to have every day of the year available to you at a glance, like you would in a traditional planner. So I opt for a really simple, straightforward yearly spread. It looks like this: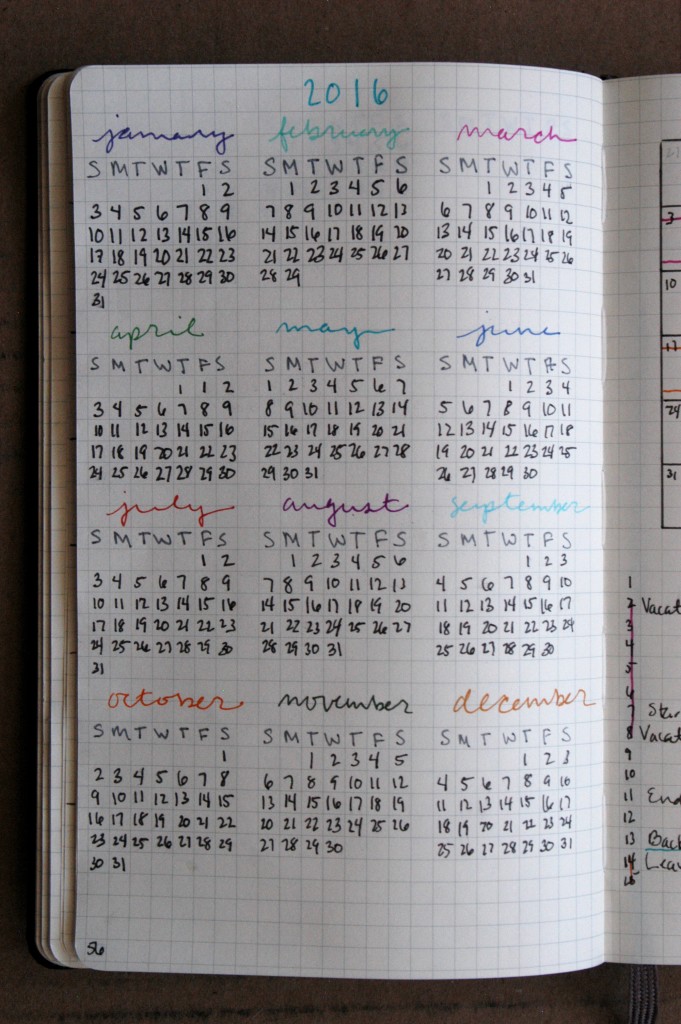 This was pretty easy for me to do, since I've switched over to a gridded journal and love it dearly. Mine is a gridded moleskin, if you need a recommendation, and my only complaint is that the pages are off white instead of pure white (which is one of my pet peeves).
I labelled my days of the week, and then put a number in each square beneath it. Three months to a row, and all twelve months fit pretty neatly on my page. If you're working with plain lined (or unlined) pages, this might be a little more difficult, but remember –
As fun as having a pretty, perfect bullet journal sounds, it's better to have an imperfect and functional one than a perfect imaginary one.
I added some month headings in cursive and color for an interesting pop and called it a day. There's a little space at the bottom for anything I need to plan out well in advance. Since that's unlikely in my hectic life, it wasn't a priority, but the beauty of the BuJo is its flexibility. If you need more space at the bottom, leave it – or even devote the entire page facing your year to upcoming responsibilities.
Since my yearly spread is so bare-bones, I need a slightly beefier page for each month.
Bullet Journal Monthly Spread
I'm trying something new with my monthly spread for January – I've got a functioning calendar and a daily list in place. During the semester, I keep a long list with every. single. due date. for all my classes pinned above my desk, so when I get this semester's syllabuses (syllabi?) I'll copy the due dates into the month. Check it out: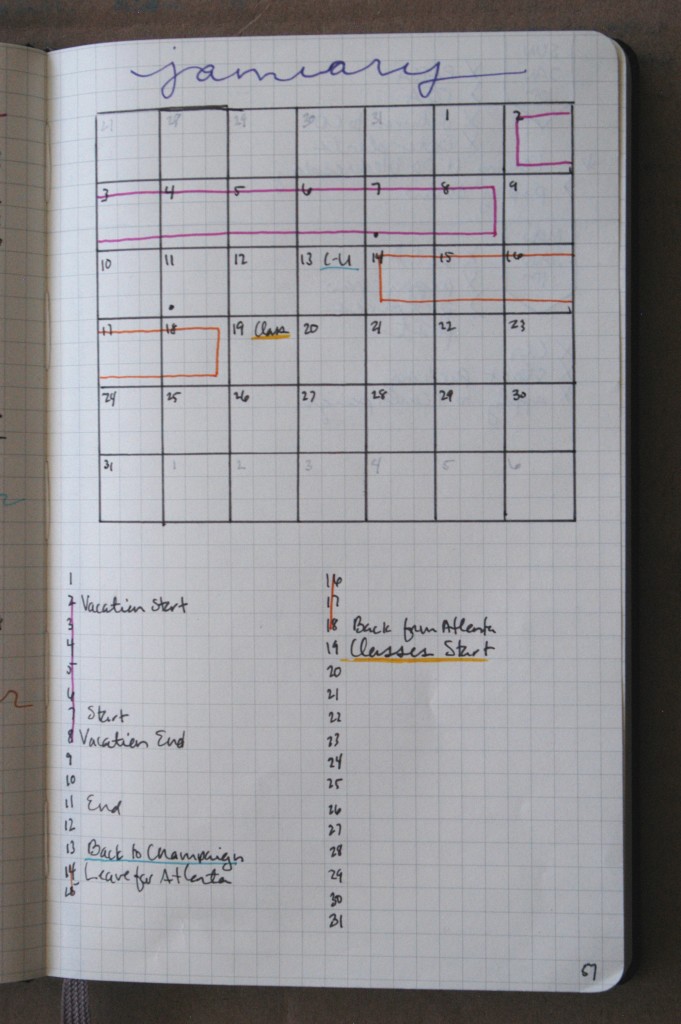 Again, this spread is super easy if you have a gridded journal. Total life saver, 10/10 would recommend. I also used a straightedge for my calendar because neat lines are nice to look at, but again, choose function over form every time.
The calendar itself is a handy reference for days of the week, but it also functions as a general overview of what I have to do. A week with lots of filled-in boxes will be busy, an emptier one less so. I write shorthand versions of any obligations I know of before hand in each calendar box. And if you notice that some are outlined in colors, those are days I'll be travelling – I love this method for marking out longer periods of time as special without cluttering my boxes.
Below the calendar, I've devoted half a line to every day of the month. I use this space to expand on what I need to do for the day, since it's not always clear from my shorthand. If you wanted to make this into a two-page spread, you could expand the calendar and give the written portion its own page for more space and flexibility – I've tried it and liked it, but for me, it's a waste of space. Try both ways, see what works for you!
Do You BuJo?
If you already bullet journal, how does this compare to your month or year pages? And if you're planning on starting a bullet journal, first of all, good choice, go for it! And second of all, do you think these spreads would work for your life? Let me know in the comments!