This post contains affiliate links. This means that if you make a purchase through a vendor I link you to (in this case, Amazon) I may receive a commission for the referral.
I've said it once and I'll say it again – men are so, so hard to buy for. Dads, especially. They're mysterious creatures, okay? If they want something, they buy it, end of story. So if you celebrate Father's Day, buying gifts is always a struggle. My mom and I were lucky enough to stumble across some perfect decor for my dad's "man cave" (a.k.a. our basement), but normally, our lives get pretty difficult in June. If you're anything like me, you tend to buy your presents late in the game, and they tend to be awesome anyway. I might take a little too much pride in my gift-giving abilities, don't mind me. But sometimes, you just draw a blank. And then what are you going to get him? A generic mug or a tie? No, you're better than that. So I've pulled together a father's day gift guide for all your last-minute dad gift needs.
Father's Day Gift Guide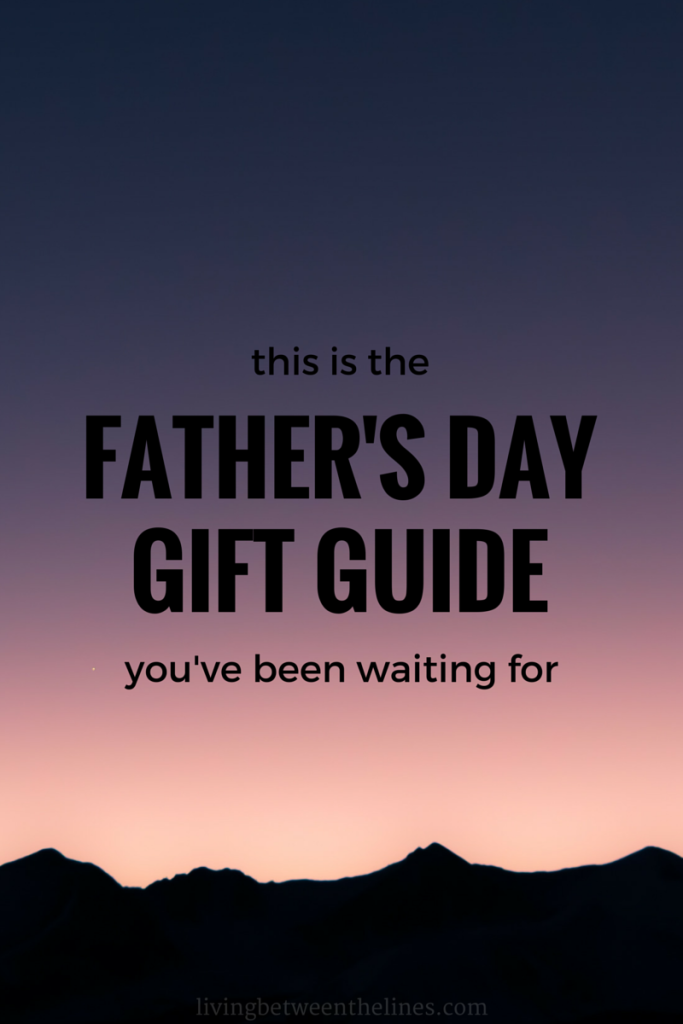 Much like my previous gift guide, I'll sort this one into categories for easy browsing. Whatever your dad is into, there's sure to be something that'll make him smile on this list!
Sports
Guys tend to be pretty passionate about their favorite sports, and dads are no exception. Honors his team, his game, or his fun-loving style with one of these sporty gifts.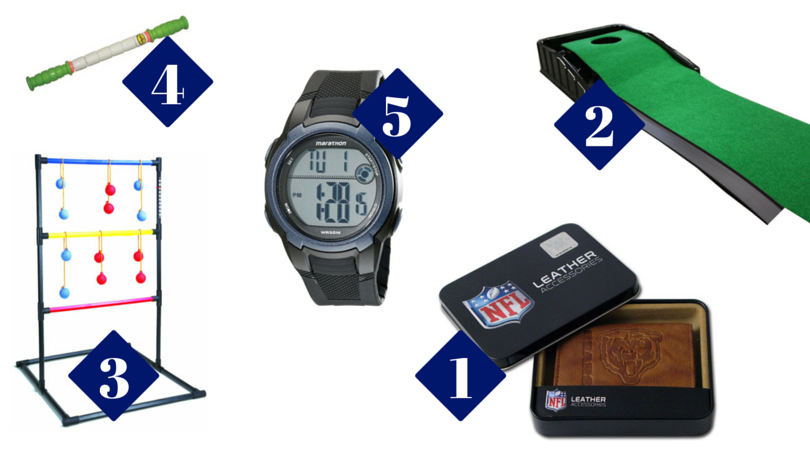 Genuine Leather NFL-Embossed Wallet
 – If you want to feel like you have your life together, giving genuine leather as a gift will help. And a wallet is a timeless, practical gift – made a little more exciting by supporting his favorite NFL team. If your dad isn't a Bears fan, don't worry. There's an option for every team in the league.
Office Putting Green
 – I'll never understand golf. Men in weird pants hit small balls with weird sticks. It's boring. But somehow, dads love it. And nothing says "whacky suburban father in a sitcom" like an putting green for his office.
Chuck-a-Ball Game
 – I'm from the midwest, so bags (or cornhole) is my cookout game of choice. I'm also of the opinion that any self-respecting lawn-game enthusiast will already have a bags set, so I won't bother telling you to get your dad one. Instead, I'll offer up this beauty. Call it what you will – chuck-a-ball, bolo golf, ladder ball, hillbilly golf – this game is a great alternative to waiting in line to play bags.
"The Stick"
 – "The Stick" pretty much saved my life back when I was running competitively, and I can't recommend it highly enough. It's like a targeted sports massage, but without the lack of control or invasion of personal space. If your dad likes to stay active but finds himself sore some mornings, this is the perfect gift for him.
Sports Watch
 – An ordinary watch just can't handle the stress of exercise, so a specially-made sports watch might be just the thing to keep your dad on time in and out of the game. Like most digital watches, it features an alarm, but the stopwatch on this one is especially helpful for athletes.
Man Cave
The basement pretty much belongs to my dad at this point. Like all wildlife, dads need their own territory to thrive in. And you can help spruce it up with one of these gifts.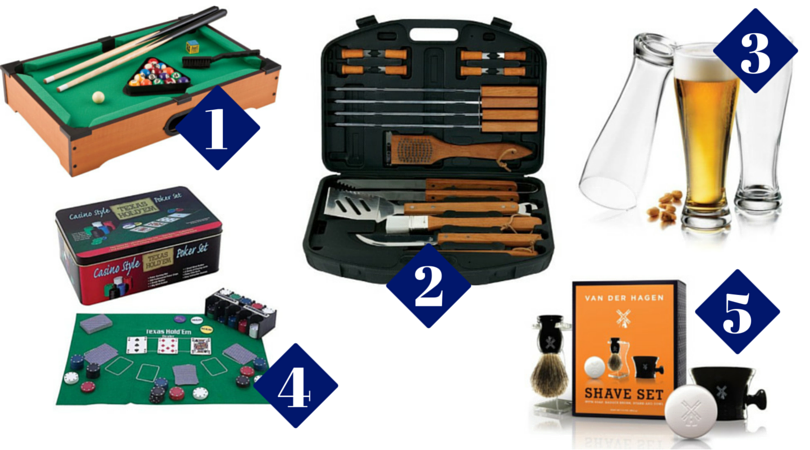 Table Top Billiards
 – Gifting your dad a tiny pool table is a great gesture towards him and his love of billiards. But let's talk about what it can do for you. First and foremost, miniature versions of large things are inherently adorable. But secondly, you practice with the tiny pool table before giving it to your dad, and then hustle people for spending money – the gift that pays for itself.
18-Piece Stainless-Steel Barbecue Set with Storage Case
 – If the designated "man cave" area of your home is outdoors, it probably features a grill, and this barbecue set is the perfect addition. Even if your dad doesn't have dominion over the back porch, any grilling dad would love this set.
Pilsner Glasses, Set of 6
 – I have this sort of prototypical "dad" image in my head. He makes lame jokes, builds decks, and kicks back after work with his favorite brand of beer. Even if your dad doesn't fit the archetype, he probably still has a favorite beer, and you can enhance his drinking experience with these classy glasses.
Texas Hold'em Poker Chip Set
 – I don't really understand poker, but every guy I know can play it, so this will probably help your dad bond with his buddies. It comes with a playing mat, as well, which means it's basically a replacement for Vegas. And, much like the tiny pool table, you could definitely learn to play poker and hustle people with this gift. I should really stop suggesting that, though.
Shave Set
 – Nothing says "rugged and manly" like shaving with a knife. It recalls a time when men were men, and safety razors were… Not invented yet, probably. If your dad keeps his face clean, this might be a fun experiment for him. If he has really shaky hands, it will not be, and you should not buy this for him.
Technology
The latest tech can be pricey, but these gadgets will be a perfect fit for your father and your budget.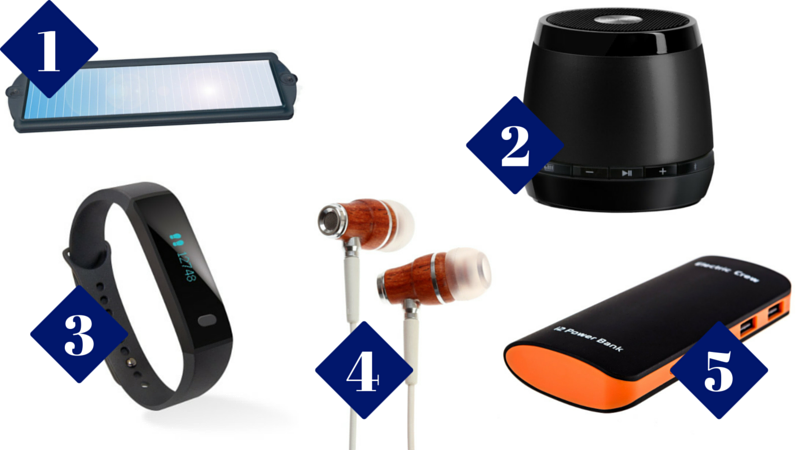 Solar Battery Maintainer
 – For the green energy enthusiast or absentminded dad, this gift is a must. The solar panel may not charge his phone directly, but it can keep a car, motorcycle, or boat's 12-volt battery charged without the motor running. Which means he can charge his phone (or accidentally leave the lights on) with no fear of running the battery down.
Bluetooth Wireless Speaker
 – My dad is fully invested in Pandora. He loves it. And his "Summer Hits of the 2000's" station is honestly fantastic. If your dad is a music lover, too, this might be the perfect gift for him. Small but mighty, this Bluetooth speaker will connect directly to his phone, no aux cord required.
Fitness Band
 – If you haven't heard of Fitbit yet… You're probably some sort of cloistered kidnapping victim, please stop using the internet to read my blog posts and use it to contact help immediately. For everyone else, I don't need to explain how or why Fitbits are fun, even if you're not super athletic. But they're also expensive, so you can try a less pricey fitness band as a gift.
Ridiculously Nice Earbuds
 – I'm taking some liberty with product descriptions here, but honestly I believe it. These are so nice. They're partially wooden, so they look classy, they're noise cancelling, and they've got a microphone. And they're among the highest-rated earbuds online, so you can trust them not to fall apart immediately, like every $6 pair I impulse buy while waiting for a cashier.
Phone Power Bank
 – Dead phone batteries are the actual worst. Save your dad from that terrible fate with an external phone battery. We use our phones for just about everything now, and for the dad on the go, this could be a life-saver. If he's often away from a building or car where he can charge his phone, he no longer has to worry about falling out of contact (as long as he remembers to charge the power bank).
What are your plans for Father's Day?
Do you have any traditions? We usually go for a boat ride on the river and then go out to dinner, since boating and eating are among my dad's favorite activities. How do you celebrate your dad?