My trend of seasonal bucket lists is, apparently, going strong! After a pretty good performance in spring and summer, I'm looking forward to all the joys of my favorite season – fall! Loving fall is so basic, and I'm so shameless about it because really, what's not to love? The humidity dies down, the air gets crisp, the trees get colorful, and even the rain is nice, when it comes. Fall is one of those seasons where it's easy to be inspired to get up and do stuff, which is great, because I'm personally a big fan of laziness and inactivity. Not this fall, though – I've got big plans.
Fall Bucket List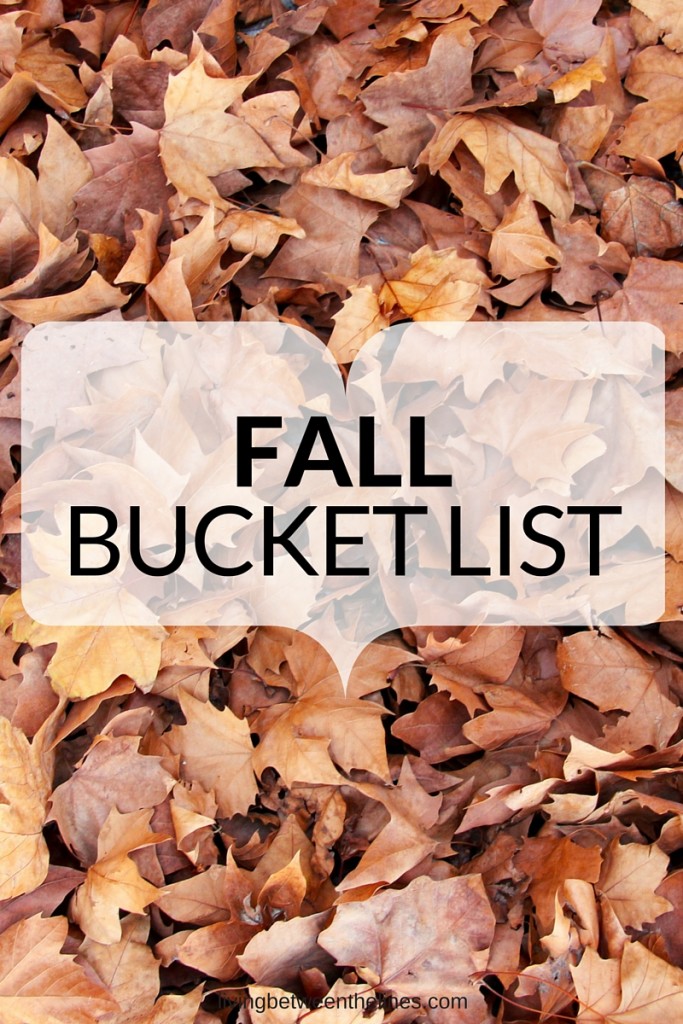 Apple Orchard
This is something my roommates and I have been talking about for weeks. Out local apple orchard is the best – it has a farm with goats and cats to pet, a great restaurant with the best apple donuts in the world, a pumpkin patch, and, of course, tons of apple trees. I've been there at least once a year since I was a freshman, and I'm really looking forward to going again.
Blog Overhaul
As fond as I am of my current blog layout, I'm quick approaching my one-year blogging anniversary! And to celebrate, I'm planning on overhauling the design of my blog and doing some other fun goodies, as well. Right now, I have a new theme chosen and I'm playing with colors and other design elements to make sure it's absolutely perfect – and it's super fun! Keep your eyes peeled for the celebration on November 17th!
Photoshoot
Another great fall feature from my university is our arboretum, which, as near as I can tell, is Latin for "place with a lot of trees". In addition to some super-cute gardens, the arboretum also has these great forested areas, perfect for long walks, yoga mornings, picnics, and fall-themed photo-taking. I'm hoping to round up some friends and go take cute pictures in the woods, once their colors are at their brightest.
Up My Instagram Game
I've complained before that I just don't "get" Pinterest, and I think I'm starting to understand it better. (Just in time for an apparent algorithm change that's gutting bloggers, but that's okay!) Now my pet project, as far as social media is concerned, is to be better at Instagram. This means posting more often, establishing a solid theme, and engaging with people – I barely follow anyone and my feed is slow and sad. That said, I kind of love Instagram, and want to get a look into everyone's pretty life. If you wanna see the pretty parts of my life, find me over here.
Make Better Food
My go-to meal is a baked chicken breast, sometimes breaded and sometimes not. I eat it all the time because I love it, and it's easy to make. But I also want to take advantage of my apartment's kitchen and take some culinary risks! I'd love to branch out and try new recipes, and learn a little bit more about how spices beyond garlic powder and paprika work. And hey, what better time to start than fall, when comfort food reigns supreme?
More Challenges
If you didn't hear, last month I decided to try drinking a gallon of water a day for a week. And it was kind of amazing! I won't pretend it completely changed my life and absolved me of my sins or anything, but there was definite improvement in how I looked and how I felt. The challenge was fun, it broke me out of my comfort zone, and honestly improved my life. So hopefully I'll be able to take on some more challenges here soon, and if I do, you guys will be the first to know about the results!
As for summer's bucket list, I accomplished everything except my volunteer work, which was interrupted by an unexpected (but wonderful!) internship opportunity. The road trip led to hiking which was, arguably, the best part, and gave way to a view like this:
And of course, the summer was punctuated with outdoor concerts, prep for school and apartment life, and my first sponsored post opportunity, making my summer goals list an overall success! Making these goal lists is one of my favorite parts of the changing seasons – it gives me a bunch of things to strive for, with a much more reasonable timeframe than a month or a year. Do you make goals lists? If so, what are some of the things on them – and how do you time them?