Dorm Style Guide
Not even going to lie – I spent a lot of time designing my dream dorm room my senior year of high school. And a lot of that time was spent on the internet, drooling over pictures of beautiful dorms with dreamy fairy lights and gauzy tapestries, hoping my room would someday look just like that. Of course, once I got to college, I found that I really only liked tapestries in theory, and that some of the ideas that I liked looking at, I didn't want to live with at all. Turns out, your dorm style is going to be something you have to discover through doing, not emulating. But naturally, there are a few things every room should have, so I've put together a dorm style guide that lays out the basics you'll need to be on your way to a dorm style that's all your own!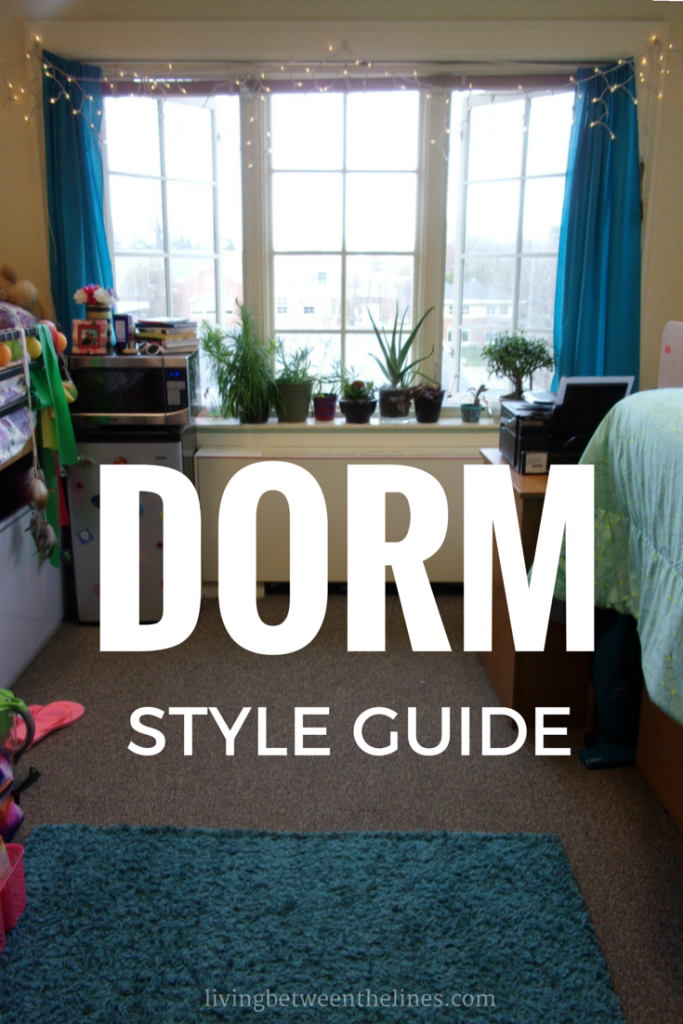 Light
Light might seem like a minor concern, but I think it's a major part of a livable dorm room. Morgan and I are lucky enough to have a corner room with two huge windows, but we've also added icicle fairy lights, a floor lamp, lanterns, and two desk lamps. Most dorms come with drab fluorescent lights that will keep your room dim and washed out. As tempting as it is to keep the blinds closed, natural light is the best solution for a dingy dorm room. Add string lights (which will go on sale right after Christmas!) for a classic college touch, desk lamps for focused study lighting, and other lamps – like Morgan's floor lamp with movable heads, or my bedrail paper lanterns – for extra light in the evenings.
Plants
Okay, so taking on responsibility for living things might not sound appealing at first, but plants are a great addition to any dorm room. For those of you suffering from pet withdrawl (I'm with you!), taking care of a plant fulfills some of that urge to care for things. Plus, they're beautiful, and help keep the air clean and fresh – especially if they flower! Morgan and I each got plants in the very early days of last school year, and only hers survived. This year, I got a new one, which I've been able to keep alive all year so far. In a completely unexpected move, my parents bought me a bonsai tree for my 20th birthday, so I added another plant to the collection. Then I discovered a bunch of seed growing kits in the dollar aisle at Target, and now I have forget-me-nots, poppies, cosmos, and cayenne peppers planted and ready to sprout in the other windowsill. Even for someone as absentminded as I am, keeping plants alive hasn't been too difficult – give it a shot!
Accents
As you may have noticed in the picture above, we have some really bright curtains. They match the also-bright rug you can see in the title graphic. While some schools provide students with curtains, ours didn't, so I took the opportunity to make my own. Despite having no sewing experience past Home Ec in eighth grade, I was able to make those curtains in a single afternoon out of $6 worth of plain-colored broadcloth from my local fabric store. I just hemmed the bottoms, and then sewed a loop into the tops of each panel – it was incredibly simple. I hung the curtains damage-free by crocheting a long chain to string them on, and then hanging the line and curtains with command hooks. Our dorm is carpeted, but the gray/brown industrial carpeting is less than inspiring, so I picked up a rug that matched the curtains for cheap – check stores like Marshall's, Ross, and Home Goods for deals on rugs! Accents like these will make your room feel like home.
 DIY
If you're looking to add some personal flair to your room, DIY projects might just be for you. Whether it's decorating your own canvas, putting up pictures, paint-chip art (like Morgan explains here) or you can rely on my favorite DIY supply for dorm rooms – washi tape! Like painter's tape, its adhesive won't damage surfaces, but it comes in a wide variety of patterns and colors to match your style exactly. You can make an accent wall of washi tape patterns – get some inspiration from my washi tape constellation wall! If you're looking for a more small-scale project, or just want to spruce up a smaller space, consider washi tape there as well. There's an unsightly radiator in the center of our wall that I've accented with striped washi tape, and then I lined the windowsill with it as well. It was a five minute project that gave the room a little extra polish.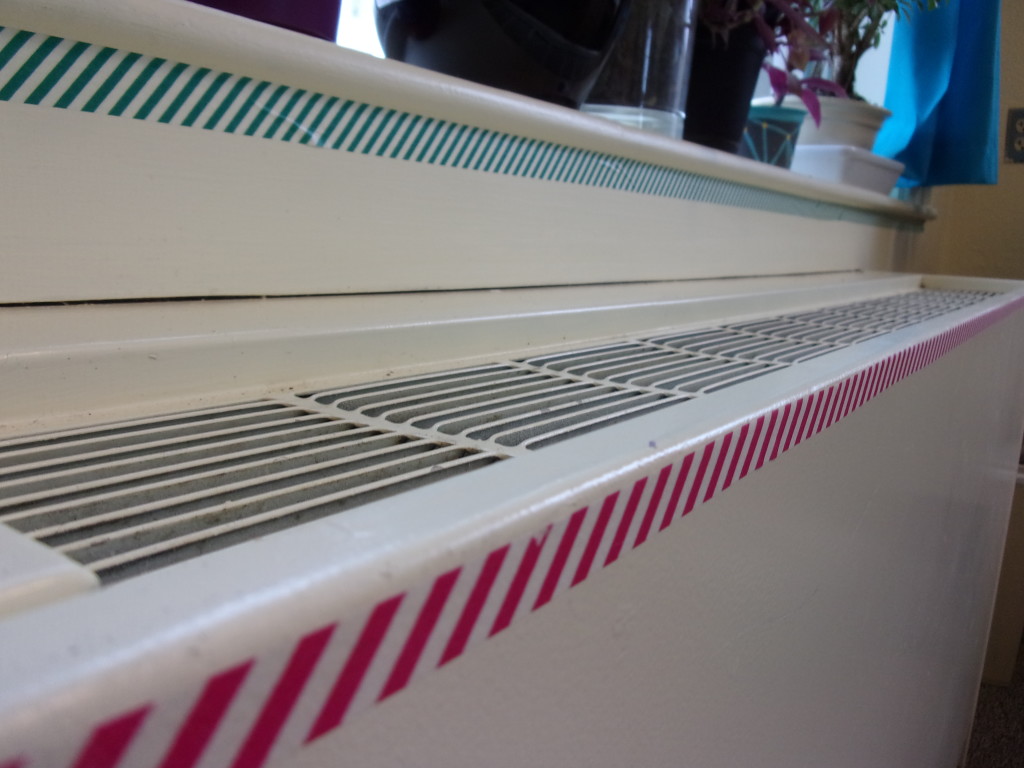 Space
Unfortunately, you can't change the size of your dorm room, but you can make the best use of the space you have. For the first little while we lived together, Morgan and I both had our beds fully lofted, blocking one big beautiful window and our only open white wall. We thought maximizing floorspace would make the room feel more spacious, but blocking the walls actually made it feel cluttered and claustrophobic. Decorations are great, and lofted beds can work, but make sure the room still feels open and fresh, with plenty of "white space" to keep the room feeling bright. Don't be afraid to rearrange your space, and try to work in tandem with your roommate to make the most of what you have.
What's your dorm style?
I like a clean, bright look, a little minimalist, a little colorblocked. You might have noticed I kind of have a thing for teal, as well. Everyone's got their own signature look, so tell me a little about yours!