Okay, so. I told you guys I was a nerd, but this is some next-level stuff. Today we're talking comic book conventions. I know that it might not be for all of you, but I was desperate for a post like this before my first convention, so I'm filling the gap.
I've been tweaking this post for actual months, since I went to the Chicago Comics and Entertainment Expo in March (shoutout to ReedPop for hooking me up with a press pass!), and now – just at the close of San Diego Comic Con, I think it's ready.
College Student's Guide to Conventions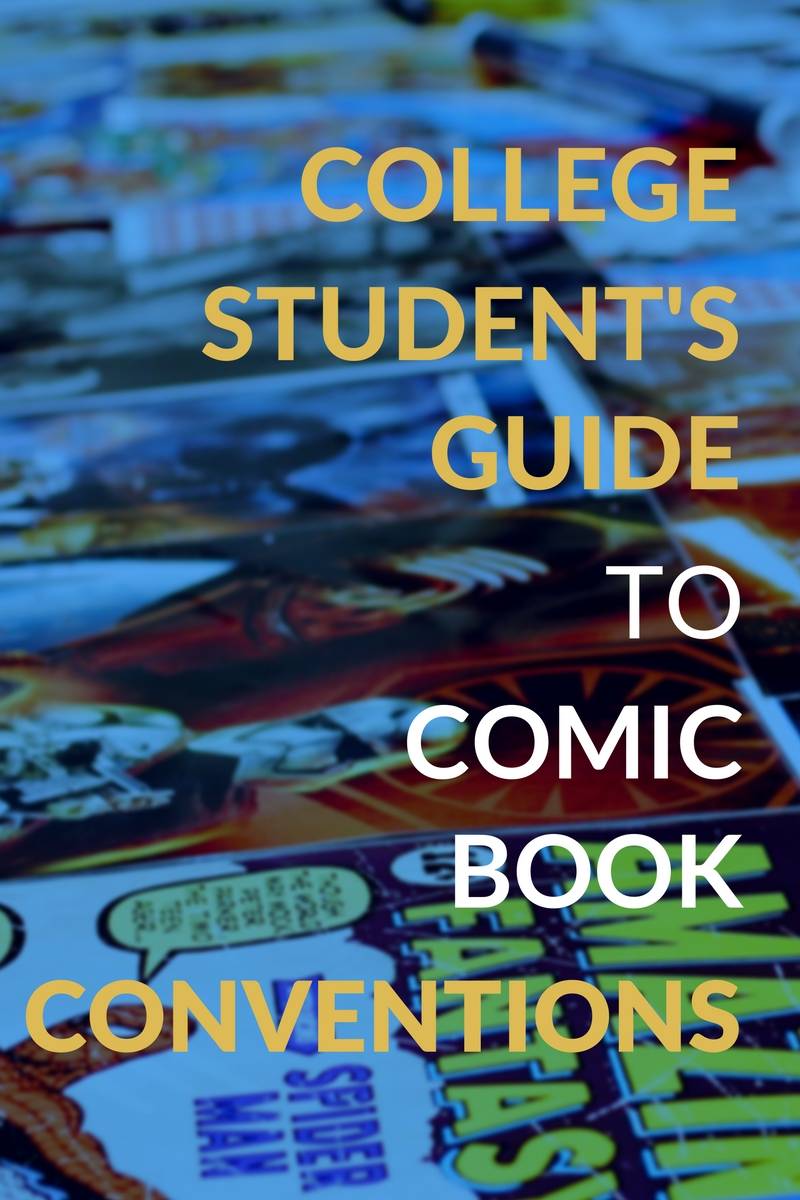 Comic Book Conventions Aren't Actually About Comics
I mean, you'll see plenty of comic book vendors, and about 1.6 million 20-something dudes dressed as Deadpool (with varying degrees of accuracy), but comic book conventions are about a lot more than comics. There's a reason C2E2 is an "entertainment expo." These events have morphed into amazing celebrations of all sorts of media, from comics and books to movies, TV shows, video games, artwork, and even more generalized, non-media countercultures.
So yes, in the conventions I've been to I've seen lots of Harley Quinns and Wolverines. But I've also seen the cast of MTV's Teen Wolf, sat in on a panel with a few Game of Thrones actors, strolled by people cosplaying as characters from the Phantom of the Opera, a dude dressed as the Fresh Prince of Bel Air, the Crimson Chin from Fairly Odd Parents, a guy in a Sharknado costume, and more little girls dressed as Rey from Star Wars than my heart could take. I've watched a dude buy a full set of armor, accidentally wandered in to a Mortal Kombat tournament, and voted in a graffiti contest that took place on the show floor.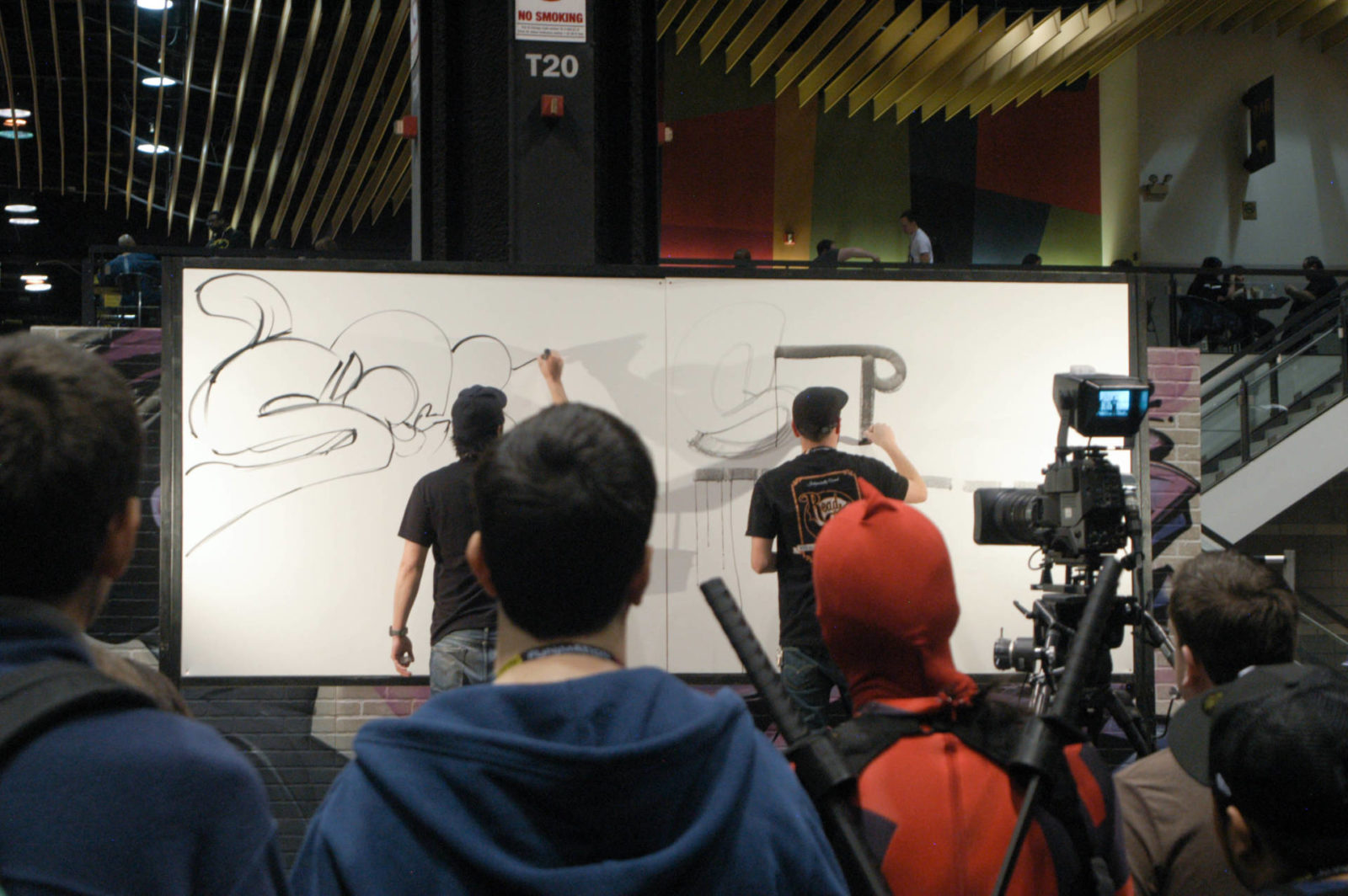 If you're passionate about something, a comic book convention has a place for you.
Be prepared & pack right
Basics include your convention pass, a bag (preferably a backpack), some snacks, and a refillable water bottle that won't leak. Your phone will die. Convention halls get crap cell service, and with all the cool stuff you'll want to take pictures of, you'll put a real strain your phone. So it's going to die. If you've got a portable battery, bring it. If not, consider bringing a power strip to use at an outlet – that's a great way to make friends.
Know how you're getting to and from the convention, as well. C2E2 serves alcohol. You may not want to drive home. Luckily, a lot of events provide shuttles.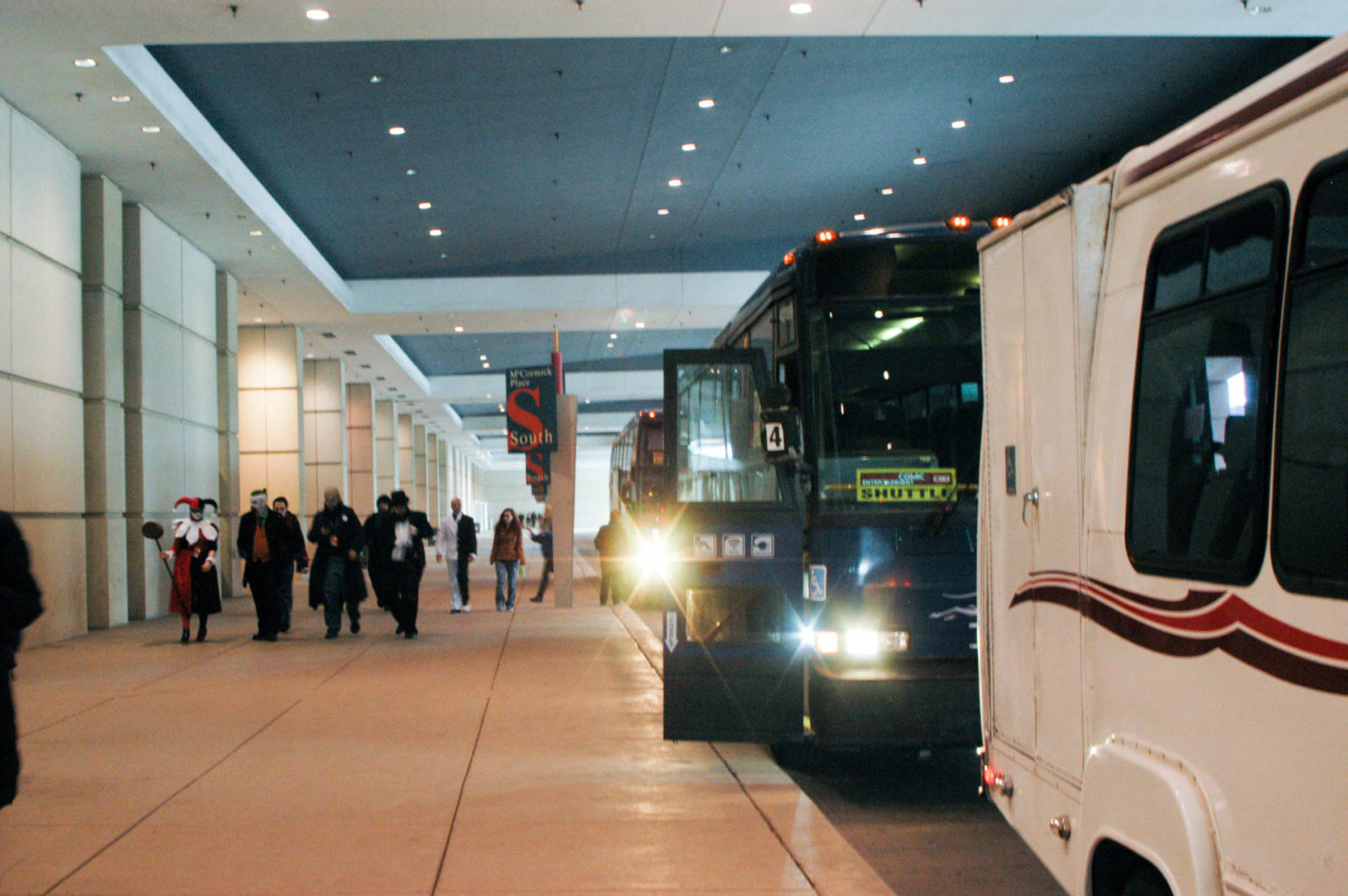 Unless you're doing some serious even photography (like I was), there's probably no need to bring a separate camera, or anything more powerful than a handheld digital (to conserve precious phone battery). I also carry hand sanitizer, tissues, and a few errant bandages at all times – this is no exception. Beyond that, your needs are limited. Make sure you check your venue's rules on what can and can't be brought onto the showfloor, then pack the night before. You don't want to forget something crucial!
You don't need much. Water. Snacks. A way to charge your phone. And a bag big enough to carry those things & all the stuff you'll buy.
Oh, and for God's sake, wear comfortable shoes.
Everything is awesome (and expensive)
I've heard people complain that conventions are "commercialized" but let's be honest: The stuff they sell is amazing. Whatever your favorite media franchise is, you can probably get something totally unique to signify your love at a convention. The incredible walls of t-shirts are a staple: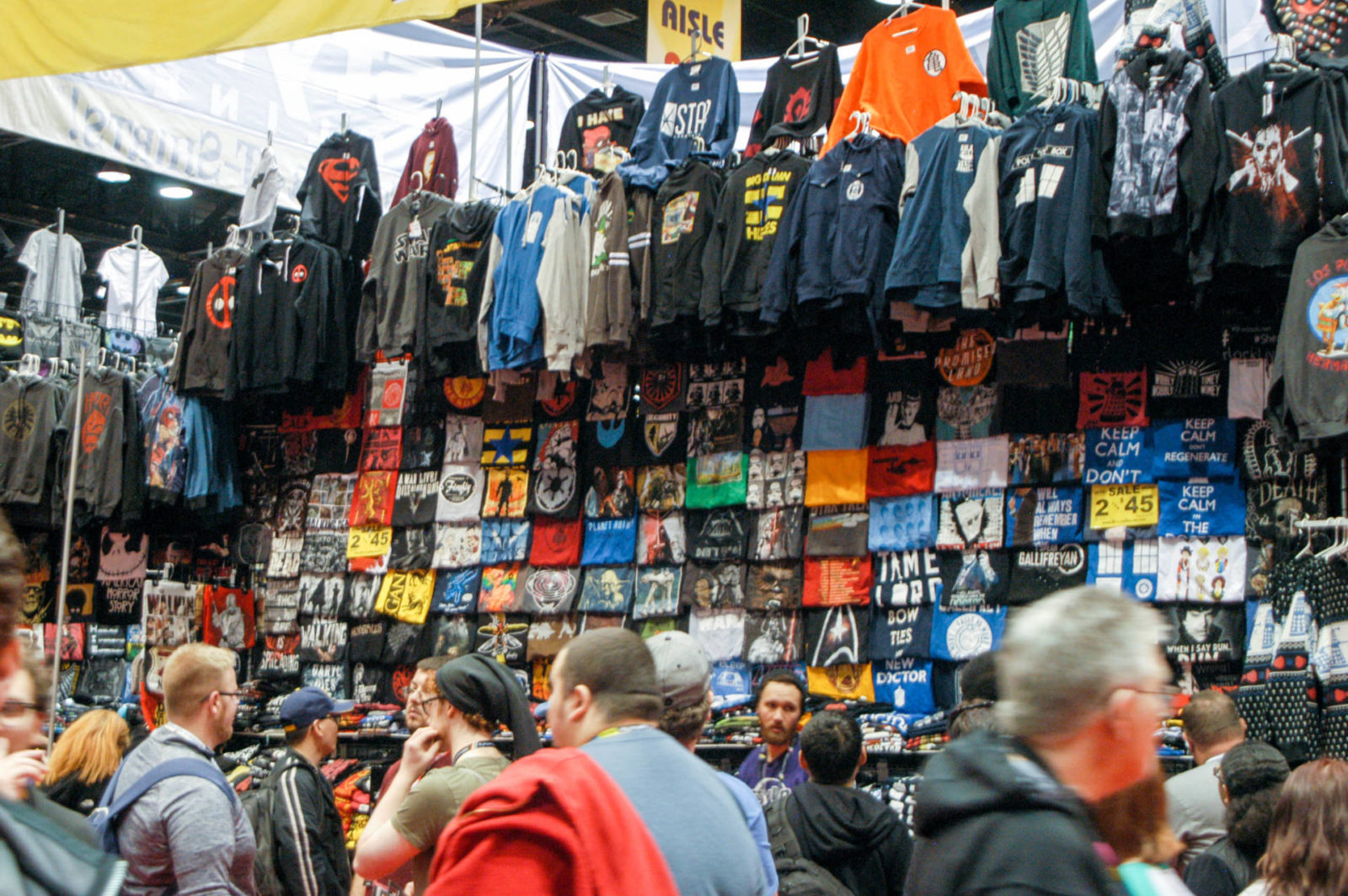 And there's so much more than just shirts. One of the most amazing things about conventions is the creative atmosphere. You'll be able to find tons of artists selling their work, usually in the form of fan art and posters. If your artists is present when you buy something, I'd always recommend getting it signed. It makes the artist feel great, helps you remember the moment, and, uh, if that artist ever makes it big, your signed print might just be worth some money.
But yes, things are expensive. Be moderate in your buying – which means please don't spend $8 on a hot dog. Your best bet is to know that you're going to want to spend money, and give yourself a budget to stick to. That should cut down on impulse buys and rampant spending.
It's not hard to find cool stuff. Get it signed if you can. Don't go for broke.
The people are friendly
There's a special atmosphere to comic book conventions. Everyone there is shamelessly, unself-consciously enthusiastic about a whole bunch of stuff, and that enthusiasm lends itself to warmth. All socially-awkward-nerd stereotypes aside, don't be surprised if someone starts a random conversation with you. Likewise, if someone seems interested in the same things you are, just go talk to them. You're in a place where that's not weird, I promise. With all the riveting panels, stunning art, and ridiculous costuming going on, you're always going to have something to talk about.
But with all the pageantry, it's easy to forget that there are people behind everything you see. So do me a favor. Always ask before taking pictures or touching elaborate costumes or props. It's easy to forget in all the spectacle, but it's absolutely critical convention etiquette.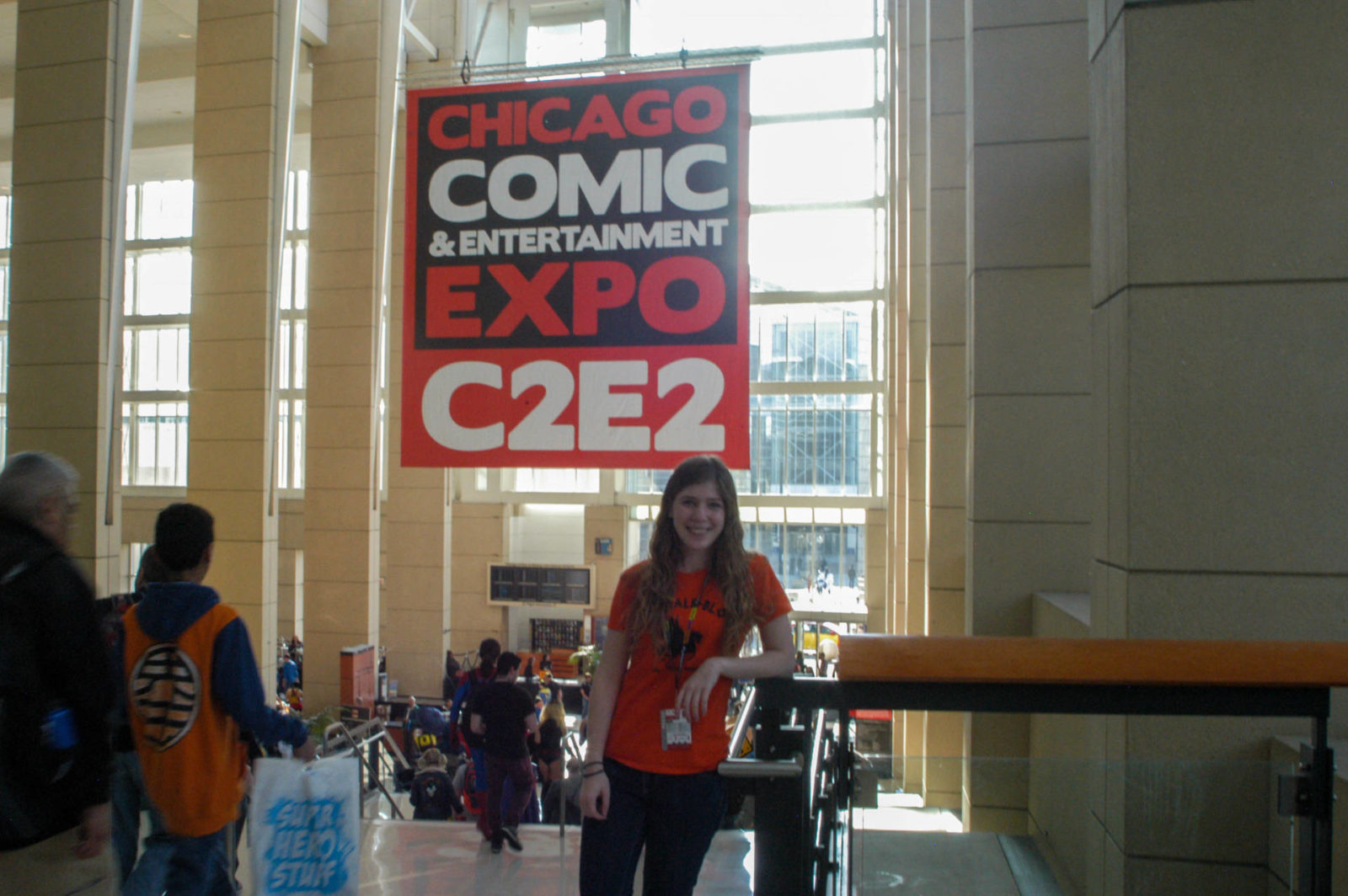 And for anyone out there who feels a little uncomfortable, try not to sweat it. I definitely had some misgivings about my first comic book convention. Nerd culture can be exclusive and elitist, and sometime certain groups of people – including women – don't seem like they'd be welcomed. But I haven't had a bad experience, or witnessed anything particularly cringey. I can attest to the huge amount of women, fans of color, and just general diversity present at C2E2, and I can only imagine that extends to other events.
But if you happen to have a bad experience, I've never seen venue workers or security act with anything but respect and professionalism. So please, speak up and keep the convention safe for you and everyone else.
Meeting new people is half the fun. The other half is respecting the people you meet.
Make a plan or miss something
If you walk onto the show floor with no plan and no idea where you're going or where you've been, you're going to miss something. Maybe you'll get lucky and it'll be a section of the show floor you weren't interested in, but are you really willing to risk it? Look at the schedule for the day, find a map of the floor, and make a plan of attack.
My original note for this section also says "do not plan every second or you will be miserable and stressed and sad." Not sure I can put it any better than that. I'd recommend making your plan a flexible one, or, if nothing else, having a 20-30 minute margin of error, in case you get sidetracked by something awesome. You don't want to get so locked in to your plan that it, y'know, stops being fun and starts being stressful.
If nothing else, try to move across the show floor in an orderly fashion. That way, you'll know what you've seen and what you haven't. This is especially important because the show floor looks like this: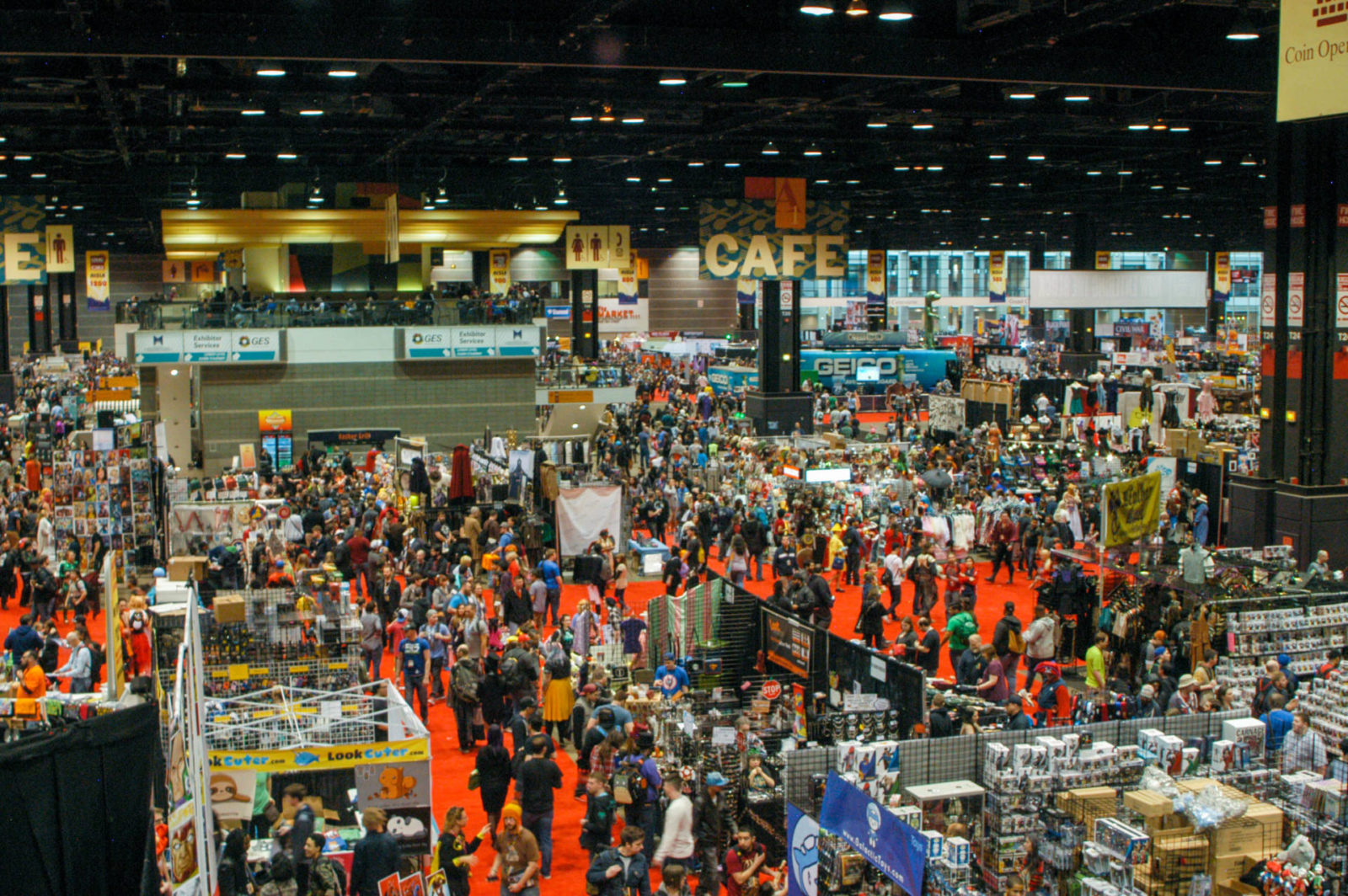 Even from above, that's chaotic. So imagine what it's like in the thick of it.
Have a plan, but be willing to change it at least a little. You never know what you're going to find.
Be brave
This is my last and most generic piece of advice, but seriously. Go for it. Do the thing.
Meeting your favorite TV or movie star will probably cost money. Meet and greets and no longer a part of your basic ticket, unfortunately. That said, if you sit in on a panel (especially a smaller one) you might get a chance to interact by asking questions. I don't watch Game of Thrones, but was happy to go to that panel with my boyfriend because Natalia Tena, Tonks from Harry Potter, was there. We waved at each other. It was magic.
But the big-name actors aren't the only people there. Artists, authors, producers, and directors are everywhere. The Boy – who has attended C2E2 with me both times I've gone, and play photog for me this year – got to meet the author of one of his favorite comics in the Artist's Alley, and it was awesome.
The people who come to these conventions know that you're the most dedicated fans, the ones who really love their stuff. So go meet them..