Those of you who have been around a while might realize that buying office supplies is one of the greatest joys in my life. New pens, cute notebooks, and accordion files are all cause for celebration, and bullet journal supplies are no exception. I've learned a lot since my first foray into bullet journals, and looking back, a lot of it has to do with better supplies… (Which is to say I'm no longer using a shoddy Walmart notebook and a half dead ballpoint pen.)
So what else is there to do but share the love? I mean, it's post-holidays sales time, a lot of people are setting up new journals, and with a little time off, my urge to make things is off. the. charts. I sat down and made a wishlist, and let me tell you, it was way too long for one post – check the Resource Library for the extended list – but here's a highlight reel. Whether you're a seasoned bujo pro or trying to set up your first journal for the new year, this list should up your bullet journal game.
The 2017 Guide to Bullet Journal Supplies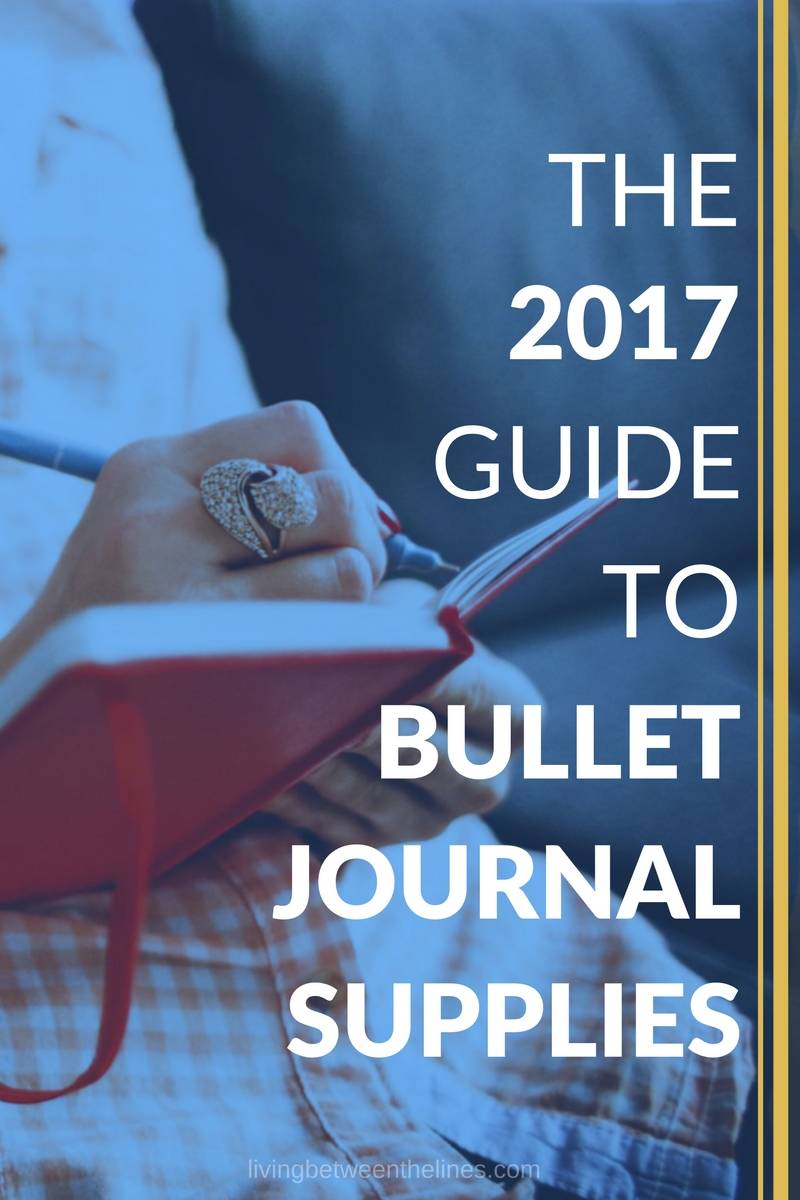 Oh, and heads up – a lot of these links are Amazon Affiliate links. They don't effect how much you pay, but I might get a small percentage of any money you spend, which helps keep the site online without spamming you with ads. Think of it as symbiosis. I'll make sure I let you know which ones I've used myself!
Notebooks
As far as bullet journal supplies go, notebooks are pretty necessary. I actually have an entire post on finding the perfect bullet journal notebook. If you want a semi-exhaustive guide to tailoring your options to your needs, that's the place to go. If you're looking for a quick rec list, though, I've got you.
I personally use a Moleskine right now – thick, gridded pages and an elastic loop to keep it closed are my jam. Downsides? Off-white paper, my personal pet peeve. This one is black, but they come in a ton of colors and they're just iconic enough to make you feel writer-ly. You can get blank, lined, or gridded pages, depending on your personal style, and they make deals with entertainment franchises all the time. Which is just a fancy way of saying you can find a BB-8 Moleskine pretty easily, if that's what you want.
Leuchtturm 1917's are another iconic bujo notebook. They're colorful, like this sassy berry-colored number, sturdy, and come in a ton of sizes. Also, you get not one, but two ribbon bookmarks for keeping your monthly and weekly to-do lists easily at hand. These are super-popular on social media, so if you're idolizing a maven, she might be carrying this one. But now seems like time for a friendly reminder that your bujo doesn't have to be perfect and you don't have to have mad Insta-game to have one. Seriously. If your bullet journal works for you, keeps you productive and accountable, and makes you feel like you've got your life together, it's working, social media followers be damned.
I'll also throw in a plug for my next bujo notebook's company, Baron Fig, which makes cute, squarish, dot-gridded notebooks with soft fabric over hard covers. All the pages line up exactly and the paper is nice and thick. Oh, and they lie completely flat when they're open, with no hassle at all. (There's no affiliate link here, I'm just a big fan.)
Pens
You know how some divides kind of get blown up into epic proportions? Like the whole gif/jif controversy. Or, if you were in middle school around the time I was, Harry Potter vs. Twilight. Honestly, we all just love a good one-on-one competition. (I'm physically restraining myself from talking about politics here.) Well, bullet journal supplies have one of those pick-a-side controversies, too, thought I've never seen it get too heated.
 I'm talking about the choice between Stabilo (left) and Staedtler (above) pens. These two brands make fine, felt-tipped pens famed for not bleeding through paper and coming in a veritable rainbow of colors. Neither brand will dry out if you leave them uncapped, which is a godsend if you're absentminded.
Ultimately, they're both great. I've used both and personally prefer Stabilos, but that's probably because I have more of them. I will say that Staedtlers tend to have a cap-to-color issue, where the color of the caps doesn't always match the color of the ink, a problem I haven't noticed with Stabilo. If you're particular about colors, Stabilo might be a better choice. As far as comfort is concerned, Staedtlers might win out – their pens have a rounded, three sided barrel, which is nicer to write with than the Stabilo's pencil-like hexagon. Informal poll on which you prefer in the comments.
Highlighters
Confession: I hate highlighters. I find neon colors distracting, and so I don't really use traditional highlighters in my bujo. For those that do, though, I have a few recs.
Sharpie Gel highlighters are, admittedly, pretty cool. Their gel formula makes them quick-drying, smudge-proof, and unlikely to bleed through your paper.
Uni makes a window-tip highlighter that you can see through, to highlight only the words you want, and it won't bleed through most papers.
Kokuyo Beetle Tip highlighters look like monsters, but they're actually pretty cool. Use the broad side to highlight as usual, the narrow side for thin lines, or balance both over the text to over- and underline it without touching the writing – perfect for pencils or still-wet ink.
But really, guys? Ditch the headache inducing highlighters. Mildliners are where it's at.
These soft-colored markers will draw attention with an almost watercolor-like wash of color. I'm mildly obsessed with the gray one, pun fully intended. If you haven't seen them before, look again – these are iconic, as bullet journal supplies go. They're double-sided, with a chisel tip on one side and a brush-like tip on the other. If you're looking to add a splash of color to your spreads without overpowering them, mildliners are perfect.
Extras
If you pull one from each of the categories above, you'll have everything you need to make an Insta-worthy bujo, but come on – you came here for a little jazz. While basic bullet journal supplies are must-haves, you can
Washi tapes are a super-popular option for blinging up your bujo. You can buy solid-colored packs, patterned rolls, and even metallic sets to customize your spreads to your exact aesthetic. Oh, and in my research I found this super-cute, super-feminine set of lace cut out tapes. Do with them what you will. You can find tons of rolls online, especially from Japanese stationery stores, but keep an eye on how much tape you get per roll – sometimes you'll only get a foot or two. In the past few years, craft stores like Hobby Lobby and Michael's have gotten pretty good about carrying tapes, too, and their quantities are always generous.
Calligraphy – if you can hand-letter, first and foremost, teach me. But second of all, you can use that gorgeous writing to make your bujo feel luxe. Even if you don't know how to hand-letter yet, you'll need the proper supplies to help you learn. Traditional fountain pens will make you feel classy (and Staedtler has a pretty sweet set with tons of colors), but I've found that brush-tip markers are maybe a little easier to learn with. They may take longer to learn than other bullet journal supplies, but calligraphy kits pay off, big time, once you develop your own style.
Gild everything. Seriously. All of it. If you're looking for serious shine, a heat-embossing kit is exactly what you want. Just write, coat in powder, brush off the extra (to use later!) and apply heat. This heat embossing starter kit has everything you need to get started. I'm so close to buying one of these, guys. So, so close.
Want more?
Then you're in luck. I've compiled a list of bullet journal supplies – basics and extras – to make your bullet journal really pop. And bonus, it doubles as a shopping list, so you know what you've got and what you need. It has everything listed here plus a dozen other ideas. Get your basics, mix and match your extras, and you'll have a bullet journal that's all your own.
Oh, and if I missed your must-have product, let me know!