An advising appointment is second only to a job interview in terms of stressful college meetings. Especially when you're just starting out, you don't know your advisor that well, and you're torn between wanting to convince your advisor that you're smart, competent, and capable, and freaking the heck out. (Or maybe that was just me?) Either way, the eternal question "What do I say at advising appointments?" remains. Luckily, I've spent the last four years sorting it out.
This post is the eighth in a series I'm calling "Freshman Fifteen" – a set of fifteen posts that will walk you up to and into your freshman year of college. Read up on the first post here, or just dive in:
Freshman Fifteen: Acing Your Advising Appointment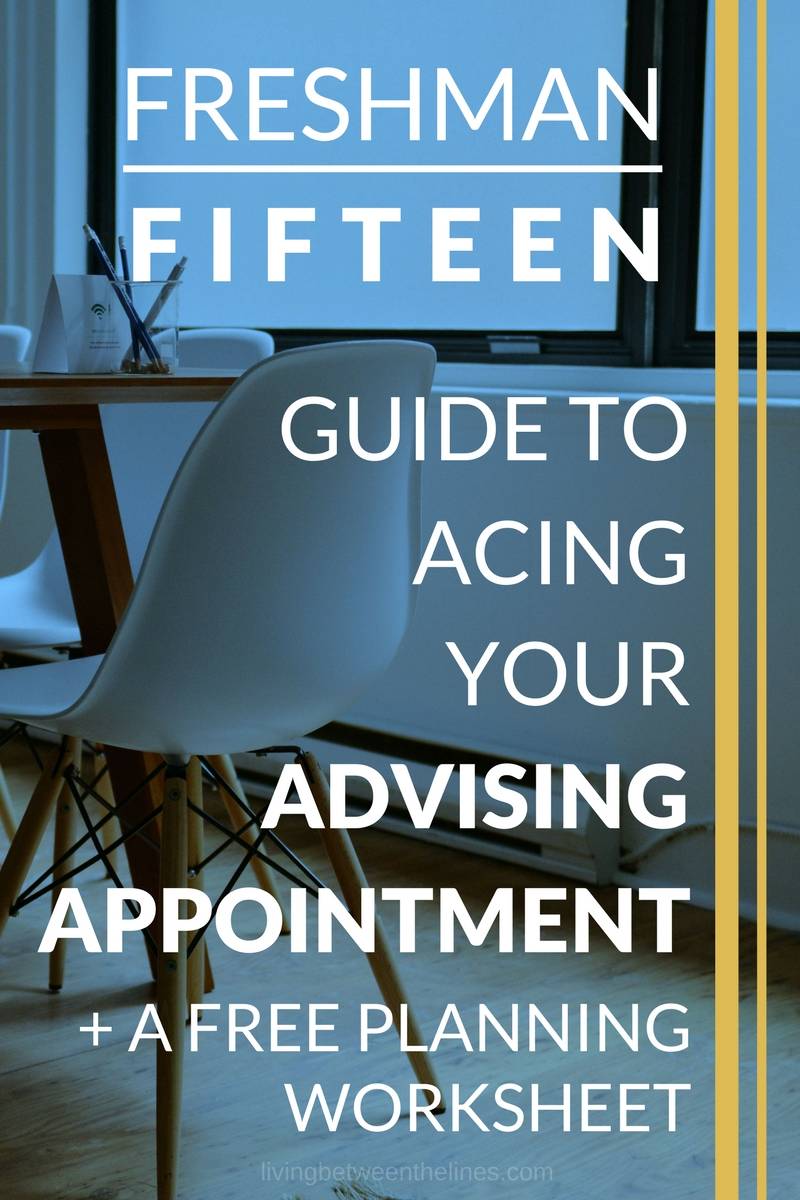 I have some very specific, actionable tips for you, but at the end of the day, the best thing to do is go with a plan. If you walk into your advisor's office with even a little bit of a plan, you'll be ahead of most students. And even if you discuss something unexpected, you'll be more calm, cool, and collected. So naturally, you'll roll with the punches.
To help you prepare, I've pulled together this Appointment Planning Worksheet, which you can take to your advising appointment to keep track of your ideas. If you're already a subscriber, head over to the Resource Library and download your copy now – a password reminder is in the footer of every email I send! If you're not a subscriber, you can sign up now and I'll email you the password right away.
Let's Get Down To Business
Although hopefully your advising appointment will be a lot easier than defeating the Huns/saving all of China. Even so, a little bit of strategy before, during, and after your appointment will be crucial. If you're using the Worksheet, you'll notice it's split into three sections, and that's how I'll structure this post, too.
Before Your Appointment
Your pre-appointment planning will consist of a little research, finding questions, and anticipating concerns.
Do a little research. I'm not saying to break out your student database subscription, but take a look at your major/minor requirements, get an idea for what next year's class planning might look like, and find a few ideas for your future. You don't have to be making career decisions yet, but what are you doing this summer? Your advisor will probably ask. If there are any summer jobs or internships in your field that you're interested in, now's the time to get a little more info on them. (Although, reminder, a job or internship is not your only summer option!)
Plan a few questions. Your research might have brought up a few questions, which is understandable. If not, come prepared with questions, anyway. Showing your advisor that you're taking an active role in your education is always a good strategy. Consider questions about your current classes, future schedules, career plans – even short term ones! – and even extracurriculars and volunteer opportunities on campus. Your advisor knows so much about what's happening on campus, so take advantage!
Be proactive about problems. This is probably the most intimidating part of an advising appointment. If you're worried about something, mention it! If you're doing poorly in a necessary class, struggling with financial aid, or just having problems finding your place on campus, admitting it can be hard. But, your advisor is also the best person to help you. Besides, I can almost guarantee your advisor has heard something worse than what you're going to tell them.
In Summary
Add reminders of anything you want to mention to your notes
Write down your questions so you don't forget to ask
Be honest about any issues now – it's literally your advisor's job to help
During Your Appointment
This is the nerve-wracking part, especially if you don't know your advisor well, so taking your planning worksheet along is a great way to soothe your anxiety. You can feel more in control by front-loading your information, taking notes, and doing that dreaded "active listening."
Speak up soon. You've got notes with important ideas to discuss, pressing questions, and concerns you have, so be upfront with your advisor about why you're visiting, and give them the information they need to help you early. Don't rattle off every bullet point from your planning worksheet in the first thirty seconds, but saying "I'm here today because I wanted to talk about…" is a great way to start a helpful conversation.
Take notes. You're probably tired of this from class, but information overload during advising appointments is real. Writing down important points will help you remember them later. You don't have to jot down everything your advisor says, but if they mention a task to complete, a professor to talk to, or a resource to look up, make note of this as an "action item" to follow up on after the appointment.
Listen with purpose. This might just be me, but I had a tendency to agree with everything my advisor said, since I felt like she knew more than me. I also had a nasty habit of not asking questions for fear of looking dumb. Neither of those helped me in college. If you think you've been misunderstood, clarify! And if your advisor mentions something you've never heard of before, go ahead and ask for details.
In Summary
Be upfront about why you're visiting and what you hope to get out of the appointment
You should always take notes and add a few "action items" to complete afterwards
Don't be afraid to speak up and correct misunderstandings or ask for clarification
After Your Appointment
You may not spare a lot of thought for following up on advising appointments, but it's critical. You'll want to review your plan of action, schedule your next appointment, and send a thank-you email.
Action is essential. If you wrote down an action item in your meeting, do it as soon as possible afterwards. It's easy to procrastinate on these action items, especially since things like cold-emailing professors are intimidating. But don't cave to temptation! If you put off completing these action items, they're easy to forget… And then where's the value in visiting your advisor in the first place?
Schedule your next appointment. This isn't like your regular every-six-weeks haircut, so you don't need to have an exact day in mind. But will you need to meet with your advisor again around midterms? Before finals? If you're the type to write things down, jot your plans for your next appointment in your planner or bullet journal. Oh, and add a "schedule advising appointment" reminder in your phone. Future-you will appreciate the nudge!
Mind your manners. I'm not your mom, so I won't demand you write a full-page thank you letter on nice cardstock. But sending a quick "Thanks for meeting with me today, it really helped! I'll see you again around [date]." email goes a long way. This helps you stand out from other students. Your advisor may spend most of their time helping undergrads, but they'll also know a lot of professors, and even people active in your future career. Aside from being polite, a thank-you email is a great way to network with a really, really important connection.
In Summary
Make sure you follow up on your action items in a timely manner
Now is the time to plan a timeline for your next appointment, even if it's vague
Thank-you emails are polite, and an easy way to ~network~
Feeling More Prepared?
I certainly hope so! Advising appointments aren't meant to be stressful, but they so often feel like an evaluation. Going in with a plan, knowing what to say, and following up strong will help make your advising appointment that much less painless. And don't worry too much – the more you go, the less stressful it is.
What are your biggest worries when it comes to advising? How do you deal with them?